About Cambridge Fantastic
… and the artist behind it all.
Hello and warm welcome! My name is Radek Walachnia and I'm a contemporary artist local to Cambridge. I'd love to share with you my story and tell you more about my journey that inspired 'Cambridge Fantastic' Series.
If you look at my paintings it's obvious that Cambridge itself is my main inspiration. This historic city is full of old, beautiful buildings, narrow alleyways, and architecture that triggers something creative within me. I graduated as an architect some 20 years ago and probably that's why I love drawing and painting Cambridge and local villages.
My second passion is books and what I like about them the most is storytelling. That is also what I'm trying to create in my paintings – stories. By adding people, animals, and here and there some famous characters I hope to create more engaging art. The last layer to create 'Cambridge Fantastic' is to add some fun by removing good old gravity. This allows me to expand and populate all the vertical space on the paintings with flying vehicles, people sitting on rooftops and sometimes levitating in mid-air.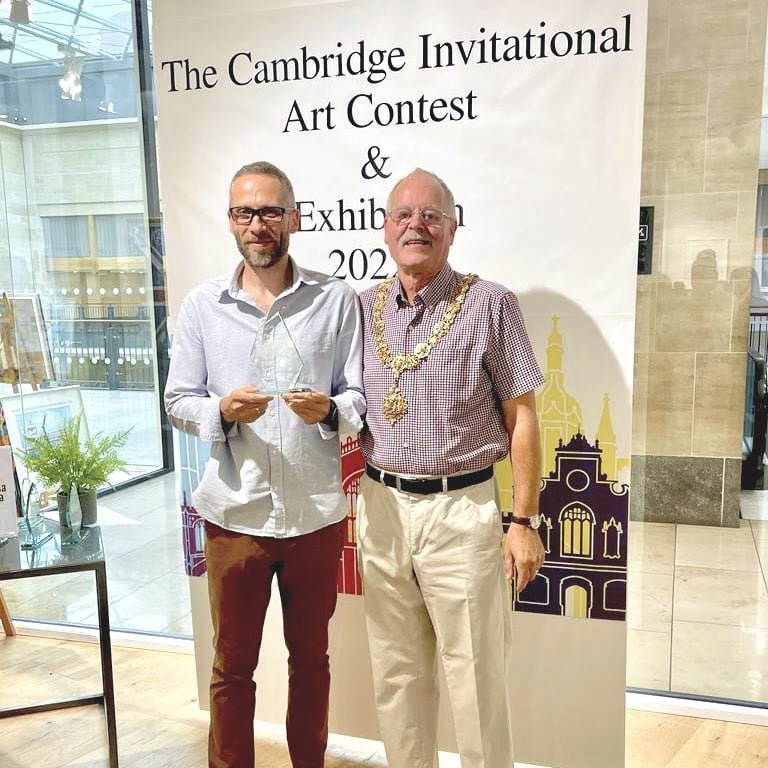 Cambridge Invitational Art Contest & Oak Bistro Award
Exhibiting at Castle Fine Art Gallery
'Cambridge Fantastic' started as a series of watercolour paintings in late 2021 so it's a relatively new project but at the same time it's been already well received by the public:
it was exhibited with success as part of Cambridge Open Studios
won a Cambridge Invitational Art Contest 2022 (with Galeria Moderna and support of mayor of Cambridge)
exhibited in Cambridge Castle Fine Art gallery
won an Oak Bistro Cambridge award
Radek is a member of 'Cambridge Drawing Society'
Sign up for my mailing list and be the first to know about my new original paintings and limited edition print series. I'll be also informing you about upcoming exhibitions and other events I'm taking part of.
I will never pass on your information. You can opt out at any time
* - mandatory fields